Work with YouthWorks – Careers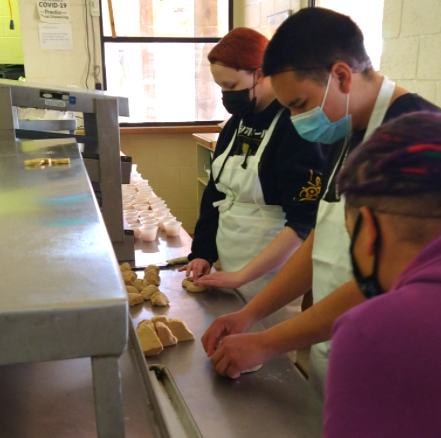 YouthWorks Social Justice Kitchen is hiring!
YouthWorks is seeking to hire a Chef/Kitchen Manager/Culinary Operations Manager to help oversee and direct operations with YouthWorks Social Justice Kitchen that encompasses: its YouthBuild Culinary Arts Training Program, Food Truck, Cafe and Catering operations and build additional, impactful opportunities for job training and growth in the community. Learn more about the position and how to apply here. 
YouthWorks is hiring 2 youth (ages 18-24) Prep Cook positions (1 part time and 1 full time). YouthWorks Social Justice Kitchen is a great place to get your start in a career in the culinary arts. We provide training in the kitchen for youth and young adults ages 16-24. YouthWorks Social Justice Kitchen is a unique working and learning environment, and in this space we value creating community, creative vision, collaborative work, and providing good food for everyone in Santa Fe. Offering $16/hr starting pay.