Help Us Turn $15K into $30K!
A local Santa Fe couple, impressed with what they've heard about YouthWorks Catering, has offered to donate $15,000 to expand our job training program for "at-risk" youth—IF we can generate $15,000 in matching funds by September 15, 2017.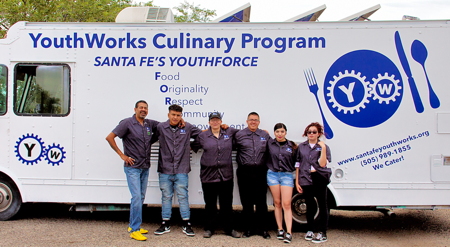 Chef Carmen (left) and the culinary team take their skills on the road.
(Photo by Paul Ross)
Under the direction of Chef Carmen Rodriguez, former New Mexico Chef of the Year, our young people are learning all the skills necessary to work in the restaurant industry—cooking prep, catering logistics, and front-of-the-house skills.
Read more here about how Chef Carmen, a former gang member, found his calling in restaurants and is now helping "at-risk" youth find theirs.
Please help us take advantage of this generous offer to expand our job training program and donate what you can to help us meet the match. Please take one of these steps today:
Click here to donate online.
Call YouthWorks directly at 505-989-1855.
Mail a check to YouthWorks, 1000 Cordova Place #415, Santa Fe, NM 87505.