About Chef Carmen Rodriguez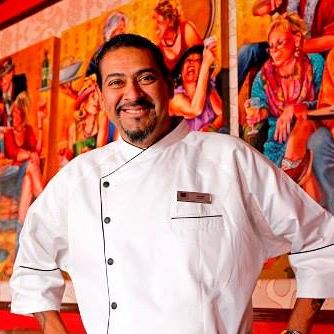 Culinary Adventure Began in the Fields
Originally from Chicago, Chef Carmen Rodriguez has traveled the nation as well as the globe developing menus that honor the farm-to-table concept. He has a true connection with the agricultural industry as every summer his migrant family would travel to work the produce fields in various states around the country.
While working in the fields, both Carmen's grandmother and great grandmother would take the ugly produce, or seconds and create delicious meals. Learning to cook from these matriarchs, Chef Carmen has taken his humble early lessons and transformed them into a culinary journey that generated award-winning dishes and an appreciative customer fan base.
Experiencing New Cuisines, Developing New Skills
Entering the professional kitchen as a dishwasher at the tender age of 14, Carmen caught the attention of his soon-to-be culinary mentor. After several years of working and learning, Carmen joined the military and traveled the globe. He spent his days off in the kitchens of his mentor's colleagues in the various countries he visited, learning the flavors and techniques of different cuisines.
Developing Signature Dishes & Kitchen Personnel
Carmen took on his first executive chef opportunity in Santa Barbara, California, at the age of 26. He soon began to gain accolades for his distinctive menus and original cuisine. He quickly began to climb the ladder of elite chefs in California, gaining notice from celebrity chefs in and around California, as well as from CHEF magazine, the California Strawberry Board, Estyo Magazine, and Univision.
Culinary Opportunities in the Southwest
In 2000, Carmen was tapped by renowned Chef Mark Miller to become chef-de-cuisine for Miller's famed Coyote Cafe in Santa, New Mexico. While residing in Santa Fe, Carmen also worked as executive chef at Bishop's Lodge and La Posada to enhance their kitchen's menus. In 2012 Carmen was named New Mexico Chef of the Year not only for his cuisine, but also for his dedication to the development of the city's culinary personnel and his contribution to the community.
Recruited to "Fix" Corporate Kitchens
Chef Carmen then took on a new culinary challenge—he became a "kitchen fixer." Recruited by a hospitality management company, Carmen traveled the country to improve or elevate important resort kitchens from Florida to the West Coast.
While briefly returning to California in 2014, Carmen appeared on Guy's Grocery Games for the Food Network. He also participated in Man vs. Master, a television show expected to air this year on A&E's FYI Channel. While working in the Coachella Valley, Carmen collaborated with local hotels and Michelin three-star chefs including Michael Tusk, Curtis Duffy, Guy Martin, Daniel Burns, and Claire Smyth.
Return to Santa Fe
Following their stint in California, Chef Carmen and his wife Penny returned to Santa Fe and opened MiSanta, a full-service catering company offering culinary creations for single meals or complex events.
Continuing a long-standing tradition of giving back to the community, Carmen and Penny are both involved with YouthWorks. Penny serves as coordinator for special projects, and Carmen is heading up the culinary arts program, preparing young men and women through a hands-on curriculum for full-time work in the culinary field.