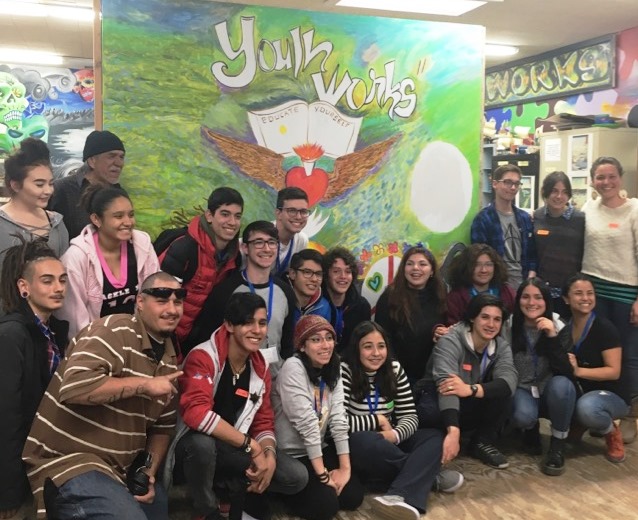 At a session titled "Popping Your Bubble with Reality," fifteen teens from Chile and Argentina, with the group Global Ties, visited YouthWorks on March 27 to hear students report on the school-to-prison pipeline and ways to break that link.
YouthWorks students Amanda and Matt have spent the last two years working on a project focused on this issue, in conjunction with the Museum of International Folk Art (MOIFA).
Their project has focused on identifying problems in U.S. public schools, raising awareness of the problems, and identifying ways schools can do a better job for our youth.
Too often, Matt and Amanda have learned, kids get in trouble at school or get caught in the criminal justice system not because they're bad—but because they just get lost or they don't have many good options or they make some bad choices and then they get stuck.
Aaron
I didn't get a good education at school. When the classes are full, with lots of kids, you don't get the help you need.
Some kids face bullying at school or racial discrimination and don't want to attend. Some kids can't afford textbooks or have to work or help take care of younger siblings. Others play hooky, break school rules, or hang around with peers who get them into trouble, and then end up in the criminal justice system.
Matt
Bullying is a problem. And it's a big issue in school that kids aren't given a chance and are just thrown to the side.
At the end of the discussion, Amanda left the Global Ties and YouthWorks audience with some advice:
Amanda
You are not defined by your past. You always can make better choices. Learn from your past, and it will make you stronger.
Next Step—The Mural
As part of the MOIFA project, earlier in the month, the YouthWorks community had invited guest artist Sam Leyba to work with the youth to paint a mural depicting the issue.
After learning some drawing techniques, the young people drew images about hopeful messages for youth in the future, which Sam put together in preparation for painting the mural on a YouthWorks wall.
On March 27, after the discussion led by Amanda and Matt, YouthWorks students and youth from Chile and Argentina all helped paint the first draft of the mural.
The unveiling of the final artwork will take place on Wednesday, April 18, from 2-4 pm.